Sailor Mercury
Japanese name : Mizuno Ami
English name : Amy
Age : 14
Birthday : September 10th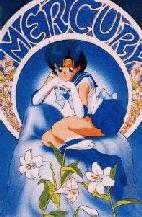 Star sign : Virgo
Blood type : A
Favourite colours : Aquamarine and light blue
Likes : Reading, studying
Favourite food : Sandwiches
Dislikes : Tuna, wasting time
Favourite subject : Maths
She doesn't dislike any subjects
Ambition : To be a doctor like her mum
Amy is the smartest, but the weakest out of the 5 Sailor Scouts. She likes calculating, and chess. She studies very hard. Amy is polite and caring and hardly argues with any of the scouts. Without Sailor Mecury the scouts will be nowhere as she is the brains of the group.
Mecury is very unique as her powers. The one is uses often is the Mecury bubbles which usually creates a fog, which makes the enemy vulnerable, But she and all the other scouts are discovering more different powers. One episode Mecury found out she could use her powers to freeze an enemy..
Sailor Mecury Picture Gallery
Click on the images to view the full length of it. Only some of them you can click on the others are already full lengthed. Enjoy !
GALLERY IS UPDATED AS OFTEN AS I CAN SO COME BACK AGAIN SOON FOR MORE PICS ^_^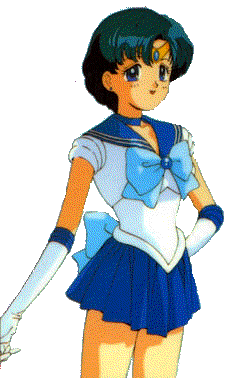 RETURN TO SAILORMOON MAIN PAGE

Bab's Mecury Page 1997 -98